From Gabriel Dance, Tom Jackson, and Aaron Pilhofer of the New York Times is this game to gauge your distraction while you're texting on the road. Yes. It's fun AND educational. Here's how it works.
You're in a car with a driver's point of view. You're driving on a freeway or road with a ridiculous number of gates. There are six of them, and as you approach the gates, one will open, and you have select that open gate by pressing the right number. After a few seconds of practice, you'll receive a text message on the screen that asks a question. You have to reply while still selecting the correct gates as they pass.

In the end you get a comparison of your reaction times while texting and not texting: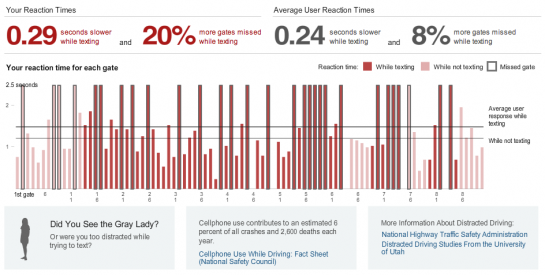 I am apparently a slow texter compared to the average. I think I also may or may not have hit a gray lady.
Regardless, texting slows your reaction time. The lesson? Don't text while you're driving. If you hit my car, I will be mad, and you don't want to see me angry. Nathan smash. Rawr.