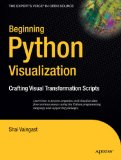 It's Friday! I don't know about you, but I'm ready for the weekend, and what better way to start with some free stuff? I have five free e-book copies of Beginning Python Visualization
to give away.
I reviewed this book last month, and I thought it was really useful. In fact, I still have it in arm's reach on my desk.
How to Win a Copy
As usual, I'll make this really easy. All you have to do is leave a comment below telling me why I should give you a copy. Make up a reason if you like. I could use a good laugh. Do this by 11:59pm EST today (Friday, July 24), and I'll select five random winners. Good luck!