In collaboration with generative artists Marius Watz, field, and others, along with Universal Everything and Wieden+Kennedy, Nokia has put together a beautiful art series involving communication as a promotion to their new E71 smartphone. The series include two interactive pieces and several videos.
One interactive piece takes video from your webcam, audio from your mic, and text that you type as input to create a generative art piece that you can send to friends and download as desktop wallpaper. Here's what mine looks like: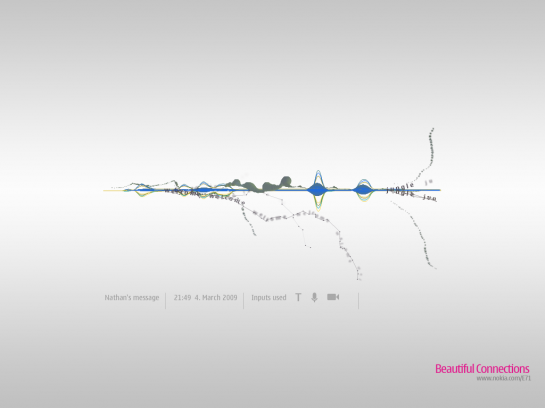 The gray blobbies are from me waving my arm around, the blue waves are from me whistling, and the text strands are from me typing "welcome to the jungle" in the input box. It's pretty fun to play with.
The second one is a small (and pretty elegant) application that you download onto your E71. Use the application to send a text message and along with that message comes a generated image that looks something like the first image in this post. It'll be different bits of art as you send different messages.
Then there are the videos – all interesting and beautiful on their own:
Great stuff.
By the way, I have the Nokia E71. It's an awesome phone, in case you're looking for a Blackberry alternative. Awesome design and really good feel to it. The GPS has helped guide me many many times and the keypad makes typing easy, which is perfect for my little self-surveillance project.
[Thanks, Sermad]