The Mozilla group is starting to dig into visualization to participation within the active Mozilla community, and they're looking for some input:
If you're a visual designer, data visualization guru, student or just interested in hacking on a cool project, join us to generate concepts and prototypes that build upon the LizardFeeder, a cool feed aggregator released earlier this year by Les Orchard.

As Les describes it, LizardFeeder brings together and archives different types of activity from across the far reaches of the Mozilla universe and spits them out in a single, dynamic stream. It's pretty darn cool to watch on its own, but we'd love to further develop a design concept that is approachable, meaningful—or at least entertaining—to virtually anyone who sees it.
Here's what the Lizard Feeder looks like now: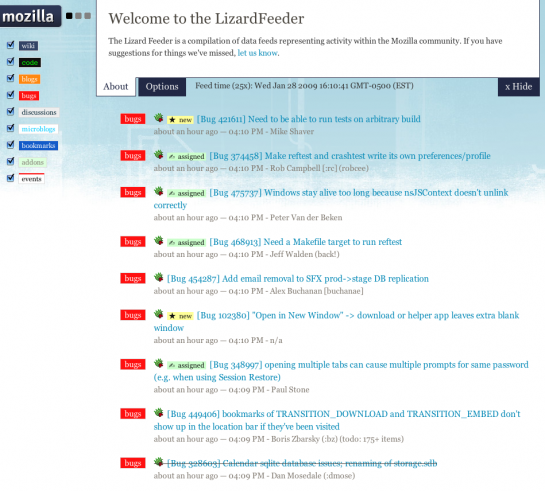 So basically, there's a whole lot of data waiting for your ideas. Get to it. I am sure you'll get a lot of recognition in the process.