Jeff Clark of Neoformix has been doing some cool stuff with words lately. Above is a word portrait of Albert Einstein looking very chipper. Einstein's entire face is composed of the word "genius" at varying shades and sizes. Inspired by Gui Borchet, briefly explains the process done in uh, Processing:
The Word Portraits that I have been creating lately use an algorithm that analyzes a starting image and finds rectangular patches of a reasonably consistent color. These are then filled in the generated image with words or letters painted with the average color in the rectangle.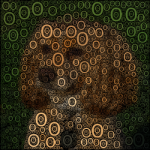 The algorithm can of course be generalized to not just words and can be used with non-human images as well. Ginger the Cockapoo serves as the case study in which Jeff reconstructs an image of the dog with rectangles, the letter O, leaf-like shapes, and filled circles.
Take a look through Jeff's other postings for more word portraits of Barack Obama and George Boole – inventor of a logical calculus of truth values.