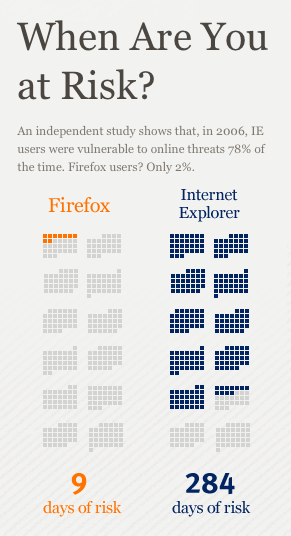 I've been using Mozilla Firefox for years and have nothing but good things to say about the most recently released Firefox 3. Whenever I borrow someone else's computer, and all he has is Internet Explorer, I feel wrong and dirty.
When I think Internet Explorer, I think vulnerability, crashing, spyware, adware, sluggishness, and more crashing. I imagine running AdAware on my mom's laptop over and over again.
This calendar graphic on the Mozilla front page captures that idea nicely. While a bar graph, pie chart, or just the numbers alone would have shown the data just fine, the calendars put the numbers into perspective. The calendars give readers a way to relate to the data, which makes the story all that much more clear.
[via Cool Infographics]