Earlier this month, I announced FlowingData's summer project for personal data visualization. It's been a lot of fun seeing what all of you have sent in; it's like tidbits out of your lives that you've decided to share with me. Really fun. Thank you everyone who's sent stuff so far.
A Few More Details
For those who haven't put in your entry yet, the deadline is September 1, 2008, so you've still got time. For those who already sent me something, remember, you can send me as many as you like. There's a $40 Amazon gift certificate at stake here – plus personal introspection and a new understanding of your behaviors and patterns.
Your entry can be pictures, graphs, pencil sketches, Illustrator sketches, Flash or Processing projects, or whatever you like. The only real requirement is that it's about you or what's happening around you. I eagerly await your flowing data. Email me your entries with "summer project" in the subject line.
Recent Reader Entries
For some inspiration, here's a subset of the several recent reader entries that I've enjoyed so far.
Tim has been keeping track of his aches and pains:


Stacy and Joel recently had a get together (which sounded like a lot of fun), and everyone drew their connections to the others at the party: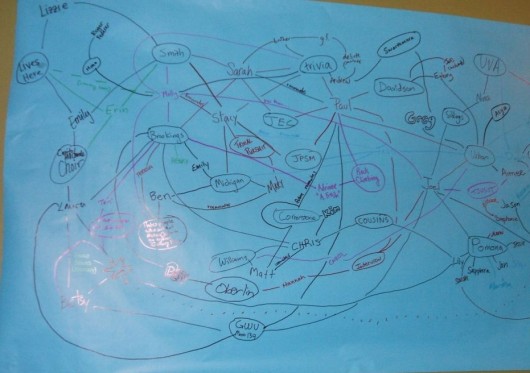 Kevin sent a snapshot of his profile from his in-development web application, BedPost. He's keeping track of um, well, you can just read it: