43 Things is a goal-setting community where people set goals, cheer each other on, and connect with others who are trying to achieve the same thing. Even if you're not setting goals yourself, it's still interesting and often amusing to see what others have set out to do e.g. go skinny dipping, have a one night stand, and be myself.

Visualizing Goals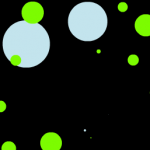 I finally got a chance to play around with the 43 Things API and RSS feeds the other day. It was more an exercise than anything else, but the result turned out better than I thought they would – especially since I was making it while watching the Lakers versus Celtics game.
The visualization shows the most recently set goals on 43 Things. Each bubble is a goal. Bigger bubbles represent more people trying to achieve a goal, and when you click on a bubble, the goal is shown. Goals are updated every hour or so.