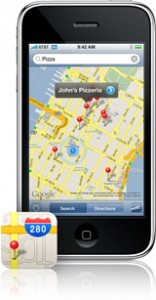 With the unveiling of the brand new iPhone 3G, Twitter has been buzzing with excitement. One of the more interesting new iPhone features is built-in GPS. Your iPhone will know when and where it is, opening up tons of possibilities for location-based applications – one of them being personal sensing, or rather, participatory sensing.
Seeing the World in Data
This is what I've been heavily involved with lately, working with the UCLA Center for Embedded Networked Sensing. Instead of iPhones, we use Nokia N80s. It's the idea that individuals can use existing mobile technologies to gather and analyze data about the world around them.
On With the Show
Here's our super cool, unbelievably awesome video taking a look at the near future of personal data collection with everyday mobile phones:
A little corny, yes, but informative.
How can non-experts make use of such huge amounts of data? I'm glad you asked! Visualization of course. More on this later.