The Bestiario design group seems to have been busy lately. Their latest project, TEDSphere, unsurprisingly, places the ever-so-popular TED talks series in a spherical space. You can watch TED talks from both inside and outside of the sphere, which is pretty cool.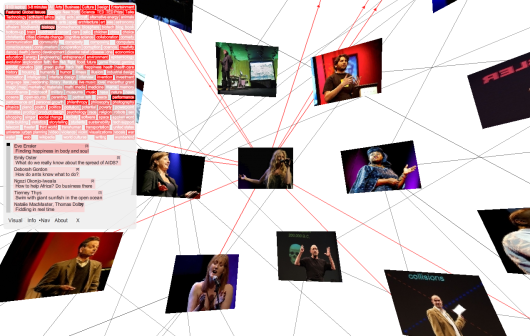 Talks are connected with lines to show relationships between lectures. Originally, I thought relationships were talks with similar tags, but I clicked around, and that doesn't seem to be case, so I'm not immediately sure.
Similar Look and Feel
TEDSphere has a similar look and feel to Bestiario's previous works with the 3D browsing and connections, which is nice and often provides smooth browsing experience. Although I wish the 3D environment could be rendered a bit more smoothly. Edges and connecting lines always look so coarse. It's probably a limitation of the Flash environment, but if that could be accomplished, these 3D projects could look that much better and feel less alpha.