I just signed up for an EverNote account, which lets you store all of your notes online from all of your devices – tablet, paper, mobile phone, laptop, PDA.

EverNote Corporation's mission is to give users the ability to easily capture information in any environment using whatever device or platform they find most convenient, and to make this information searchable and accessible at anytime, from anywhere.

Built on a unique metaphor for information management and powerful image recognition engines, our flagship EverNote product allows users to capture and retrieve text notes, web clips, mobile phone snapshots, images containing printed and handwritten text, digital ink notes taken on tablet PC and PDA, and more.
I'm looking forward to messing around with the service, but I'm not expecting it to change my life a whole lot, mainly because I don't have tons of mobile technology other than my laptop, and even that, I have it hooked up to a monitor. Yes, I need to get out more, although I'd still prefer to be out without email with me.
EverNote's still in private beta, but I've got 10 EverNote invites, so if anyone wants one, just let me know in the comments.
A Step Closer to Storing Everything
Evernote sort of reminds me (in concept at least) of Gordon Bell's ongoing project, MyLifeBits. It's an experiment on what it is store everything digitally.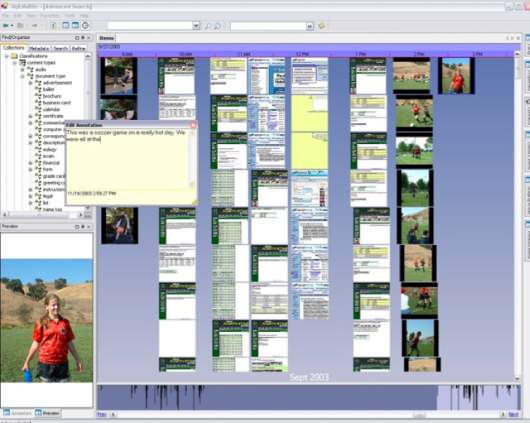 Storing so much data, in the form of images, documents, text, GPS, etc, brings up a lot of interesting visualization questions in self-surveillance with the overlying theme – how do we make sense of so much information stored in one place? There's a lot of systems out there to collect personal data (especially with the growing population of mobile devices), but the ideas, concepts, and designs to understand all of it seems a tad bit behind.