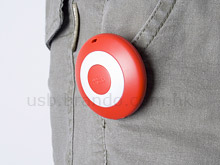 I'm thinking it might be time to revive my step count data collection with a nifty USB pedometer from Brando.
This Pedometer can store 3 days of step data and upload the data to your PC via USB! Through your data, the software can chart your outcome, view the calories burned and details on your daily activies. You can get easily to control your weight by this Pedometer and no over weight anymore!
If I had this, it wouldn't be such a big deal if I forgot to record a couple of days. As I noted in a previous post, one of the difficulties of getting good step data was simply getting it into the spreadsheet. This bad boy records 3 days worth of data. Plus the USB and software, I imagine, could make record-keeping a lot smoother. Plus no over weight anymore!
Worth investigating, I think? The release date is somewhere November 2007. I'm about 1 percent positive that this could very well be as popular as the iPhone.
[via Gizmodo]