Visualize Music Collections With MusicBox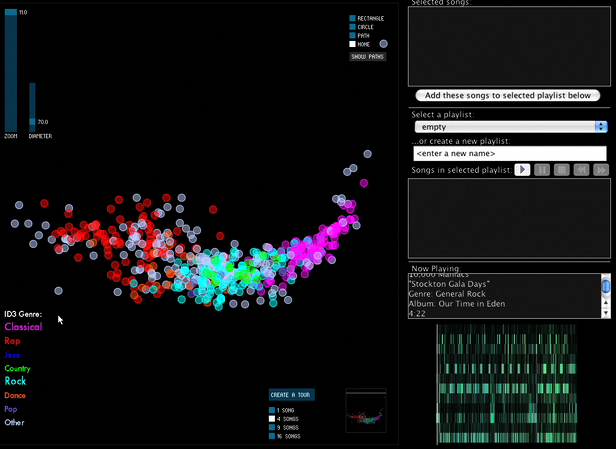 The great thing about being a graduate student is that you get to experiment. Anita Lillie, from the MIT Media Lab, demos MusicBox, her master's thesis project that visualizes and maps music collections based on songs' acoustic features. As might be expected, she uses principle components analysis to arrange songs. Each dot represents a song. If two songs sound similar, they should appear close to each other. As an example, the above dots are colored by music genre. Rap songs appear on the left in red while classical appears on the right.
As an aside, Anita's project reminds me a lot of a GGobi demo by Di Cook. She used the tuneR library in R to quantify Beatles songs and then used GGobi to do something similar to MusicBox. R and GGobi are free to use, so if you're interested in visualizing your own music library, you might want to check them out.
[via TechCrunch]