Map Shows Newspaper Endorsements in US Presidential Election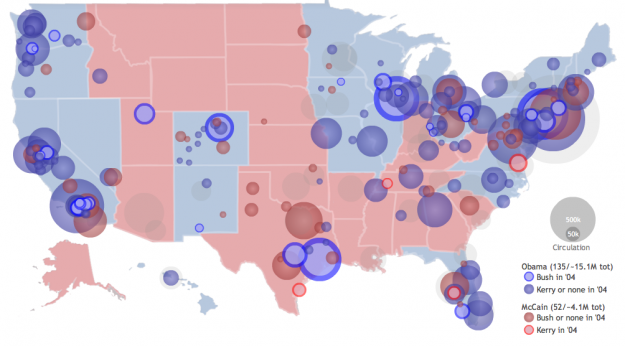 Philip, from infochimps, maps newspaper endorsements using data from the Editor & Publisher's list. Circles with the blue radial gradient are newspapers that endorse Obama and John Kerry in 2004 while the red ones show McCain/Bush endorsements. The lighter blue circles are newspapers that endorse Obama, but actually endorsed George Bush in 2004. It's a similar encoding for the John McCain endorsements except in red and the flip being John Kerry. Circle size is newspaper's circulation.
The only thing I found a little weird was that the Dem to Rep or Rep to Dem endorsements were represented with all blue or all red. It certainly makes the circles stand out - which was the point - but doesn't really indicate a flip. I had to mouse over the circle to find that out.
[via FlowingData Forums | Thanks, mrflip]