Names Mentioned in Debates by Major Presidential Candidates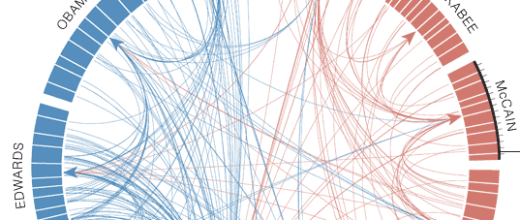 Jonathan Corum and Farhana Hossain created a network visualization that shows readers who has spoken about who in presidential debates. Scroll over each candidate name to isolate the connections; important/interesting points are highlighted. Candidates are colored blue and red for their respective political parties.
There are three main things that this thing shows -- who has spoken about who (lines), who has been talking the most (circle segments), and finally, attention by party (red and blue). In usual fashion, The New York Times churns out another beautiful graphic. Not only is the visualization attractive, but unlike so many network diagrams before it, this graphic is also useful and informative.