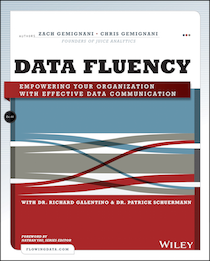 There's a new addition to the FlowingData book series on the way. It's called Data Fluency: Empowering Your Organization With Effective Data Communication. It's by the founders of Juice Analytics Zach and Chris Gemignani and is available for pre-order at the major online booksellers. Copies are also making their way to the brick-and-mortars.
Nice.
As I assumed the technical editor role for the first time, I'll talk more about the book soon, but Zach and Chris probably sum it up best:
Our hope is that this book starts a new kind of conversation in the analytics field — one that incorporates the people side as much as the tools, techniques, and technologies. We hope it spurs individuals and organizations to start on a journey toward making data a more useful tool for sharing ideas.