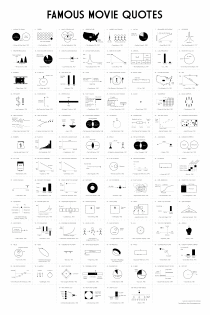 Since so many of you kind people asked, the movie-quotes-as-charts graphic is now coming to a poster near you. Take advantage of the early-bird pricing and pre-order the print now.
The poster is 24 inches wide by 36 inches tall, printed on 80lb cover and with a matte finish. I'll sign and hand-number each of them.
I'll take orders for a week, and then it's off to the printers. Printing usually takes a week or two, depending on how many there are, and then I'll roll and mail everything myself. So if all goes as planned, the posters go out in February.
Thanks all for your interest. And one more time: Get your pre-order in here.