Alternative to Cartograms Using Transparency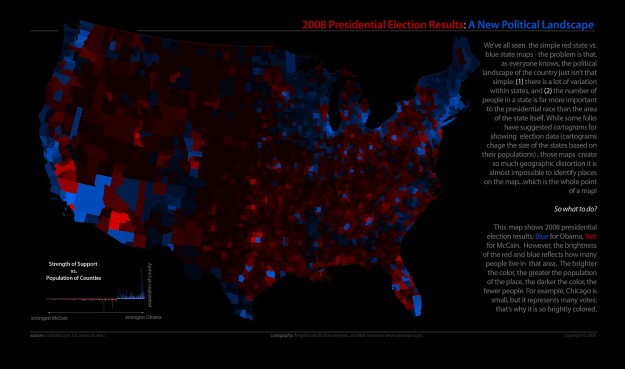 The thing about cartograms is that it's hard to make out what you're seeing. You lose most sense of geography and size comparison is near impossible. They're more of a pretty picture than an analytical tool. Axis Maps proposes an alternative to cartograms, and the example of course uses presidential election data.
Instead of morphing counties so that they are sized by area, Axis uses transparency or more accurately, alpha levels. Uh, wait, is that more accurate? Oh I dunno. Someone correct me if I'm wrong. Anyways, as a result, counties with higher populations glow brightly and those with smaller populations fade into the darkness that is oblivion. I like it. More importantly though - what do you think?
[via Cartogrammar]