Next week, data science educator Metis rolls out its popular Data Visualization with D3.js evening course in San Francisco. The course has been a repeated hit in New York City, and was designed by Kevin Quealy, Graphics Editor at The New York Times. In San Francisco, it'll be taught by Kai Chang, design technologist and co-organizer of the Bay Area D3 User Group.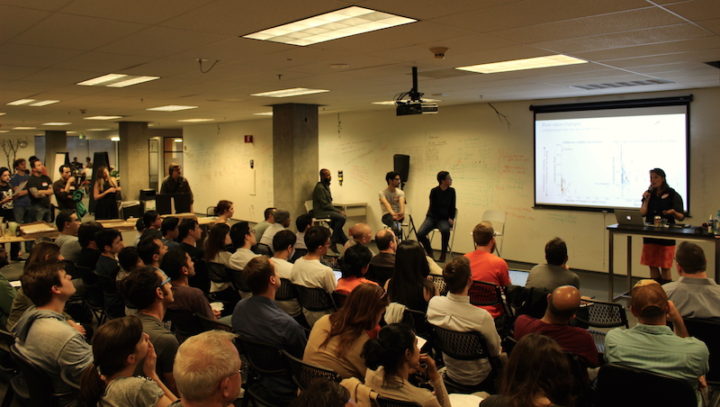 Great turnout for a recent Data Viz Meetup at Metis in San Francisco, during which Kai Chang presented along with Kerry Rodden and Zan Armstrong.
D3 enables students to tell stories and communicate information interactively in ways that simply are not possible outside of a web browser, to audiences of both technical and non-technical backgrounds. Anyone seeking to be more proficient in D3, and anyone seeking expertise visualizing quantitative information should consider the course.
Outcomes
Upon completing the Data Visualization with D3.js course, students will have:
A working conceptual understanding of the field of data visualization, particularly as it relates to the internet and mobile devices.
Deep knowledge of the forms and techniques of data visualization and effective display of quantitative information; specifically, bar charts, scatterplots, area charts, line charts, choropleth and bubble maps, small multiples, annotation principles; and the strengths and weaknesses of each.
Proficiency in using D3 to make static and interactive charts and documents, and in using JavaScript to process and manipulate data.