Thanks to BuzzData for sponsoring the FlowingData feed this week.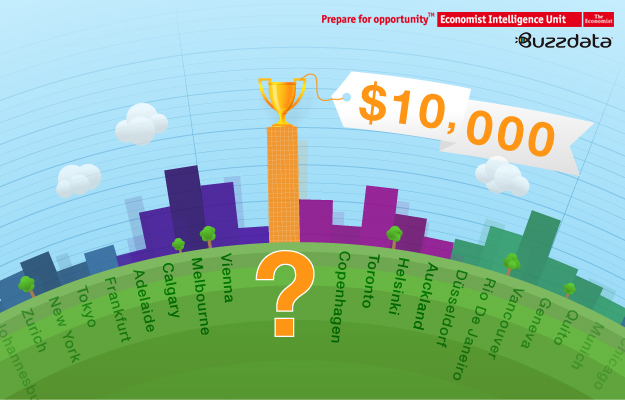 Economist Intelligence Unit and BuzzData launch competition challenging data-savvy readers to analyze and rank the world's cities
THE COMPETITION:
The EIU's Global Liveability Report ranks 140 cities worldwide based on factors such as stability, healthcare, education and infrastructure. Its data-driven analysis sparks debate on urban issues globally. Its Worldwide Cost of Living Index uses the prices of products and services to compare the cost of living in 140 world cities.
Now the EIU wants to hear your views on what makes a city great. Is it considering the right factors? In your opinion, which ones has it overlooked? The EIU is releasing its liveability data on BuzzData.com and challenging anyone to mine, mix and mash it up to create fresh perspectives on what makes a city truly great.
The winner will receive $10,000 for proving where the best city in the world is using data and a visualisation.
The EIU and BuzzData will be accepting submissions for the Best City in the World competition until March 4, 2012. Submission guidelines and further details can be found at http://buzzdata.com/best-city-contest.
JOIN THE CONVERSATION ON TWITTER AT #BestCityContest
WATCH THE CONTEST GUIDE VIDEO: http://vimeo.com/35770448
Press inquiries and other questions can be sent to [email protected]