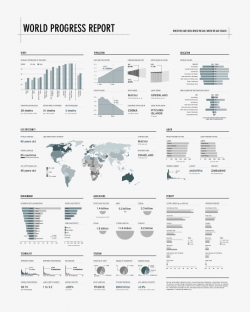 In case you missed your chance last time, I've got some good news for you. I have a handful of World Progress Reports left, so ordering is open again. I'll keep it open until I run out or until the end of next week – whichever comes first. All orders will also get a free print of Rob's beautifully illustrated College High.
I don't think the handful will last very long, so if you really want the WPR, plus College High, you should probably order now. Don't say I didn't warn you.
What it is
For those unfamiliar, FlowingPrints is a project to put data in print. I take openly available data and put it to use. The first run was a series on education in America. College High was part of the series.
The World Progress Report was the most recent print, highlighting what's going on in the world, using data from United Nations databases. No need to waste perfectly good data, I say.