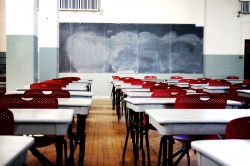 Photo by Night Owl City
Last week I posted some parallel coordinate plots that related SAT scores and class size. Now it's your turn to take a crack.
You can find the data that I used (and more) from the National Center of Education Statistics. There's a link to download the data as an Excel file. You can find pupil/teacher ratios here.
The two best entries each win a copy of David McCandless' The Visual Miscellaneum: A Colorful Guide to the World's Most Consequential Trivia as well as eternal glory on FlowingData. Yes. Eternal.
Continue Reading