Cotton Picking Correlates to President Picking
The U.S. election is over. The post-election analyses begin. The above map shows presidential voting at the county level. The more red a county is, the stronger the support for John McCain and similar for Barack Obama and blue. Below is cotton production in 1860. Each dot represent 2,000 bales. That's some strong correlation. In fact, here is the election map with the cotton overlay: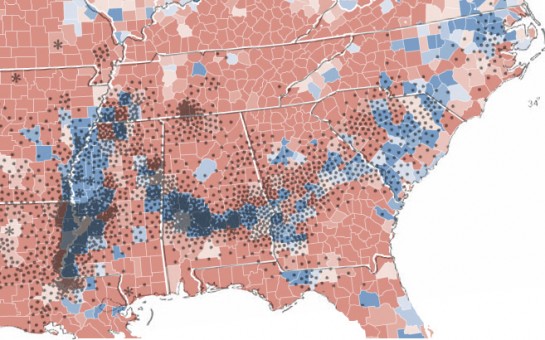 This of course is a case of strong correlation - not causation. That is to say, if you get your county to grow more cotton, it doesn't mean that you're increasing the probability that voters will sway towards Democrat. As Strange Maps points out, it is in fact a correlation to African-American population (of which 91% voted for Obama). There has been some migration during the post-slavery area, but families have largely settled in the areas their families before them grew up in.
[via Strange Maps | Thanks, Albyn]