Live Webcast of Journalism 3G: A Symposium on Computation + Journalism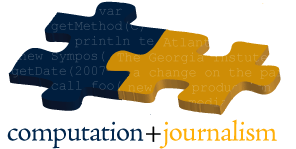 By now, if everything has gone to plan, I should have gone on my short 2-hour flight and be at Georgia Tech in Atlanta listening to the welcoming address at Journalism 3G: The Future of Technology in the Field. All 230 seats were sold out, so it should be pretty interesting. If you're not at the event and would like to listen in (and watch), lucky for you the talks will be webcast live (that is, if all the tech works, which we all know never seems to go exactly as planned).
UPDATE: Things did not go according to plan. Security took an abnormally long time, and I missed my flight by 5 minutes. My only option was to rebook for an extra $1,000 (thieves!). That flight would have gotten me into Atlanta around midnight, which just wasn't worth it. So I'm going to miss the symposium. So disappointed. At least I can still watch the webcast.