Deaths While Crossing the Border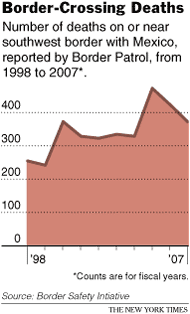 With a stricter border patrol, more Mexican illegal immigrants are taking dangerous routes to get into the United States. As a result, treks through the dehydrating Arizona desert have caused a significant number of deaths. Most likely there are more deaths than this graph indicates because the data was only for deaths reported by the Border Patrol. There could very well be cases the Border Patrol did not handle or knew about.
This graph was straightforward, mainly a waiting game for data from first, the Government Accountability Office and then the Border Safety Initiative. Take a look at the GAO report done last year, reporting a double in border-crossing deaths from 1995 to 2005. It's a little odd though that they use numbers from two different sources, so take it with a grain of salt.